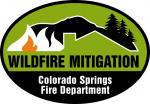 The objectives of the Colorado Springs Fire Department Wildfire Mitigation Unit are to create awareness of wildfire risk in the city's wildland -urban interface (WUI), deliver mitigation information that assists homeowners in reducing their risk and work in stewardship with neighborhood organizations to reduce wildfire risk and increase standalone survivability of structures.
Wildfire hazard evaluations have been performed on more than 36,485 homes within the city's interface and are located at the Wildfire Hazard Ratings Map below. 
Services
Neighborhood Chipping
On-site Consultations
Neighborhood Meetings
Pick A Category:
Neighborhood Chipping Program | Resources
2014 Wildfire Preparedness Meeting  | Wildfire Risk Map
---
Neighborhood Chipping Program:
The Colorado Springs Fire Department works in stewardship with over 100 neighborhoods to assist residents with disposal of tree branches and hazardous vegetation via our neighborhood chipping program. Chipping occurs during a predetermined week for each neighborhood. 
Chipping Guidelines
Individual homeowners must register to participate
All chipping dates are the "week of"
Material must be stacked curbside by 8:00AM Monday morning and will be picked up by the end of the week
Incorrectly stacked piles WILL NOT BE PICKED UP
Refer to the chipping information button for pile stacking guidelines
Chipping Schedule
Our 2016 Chipping Service will begin April 18, 2016
For assistance please contact Amy Sylvester at (719) 385-7342 or asylvester@springsgov.com
---
Resources
---
Insurance Preparedness
Insurance Preparedness Lessons Learned from CSFDPROD on Vimeo.
Wildfire Risk Map
For additional information please contact the Wildfire Mitigation office at 719-385-7342.